PDA stands for President's Day Adventures, in this case. ;)
(Disclaimer: These stories will be coming to you in no particular order. I'm telling this one now because it happened just over a year ago, and my Timehop reminded me about it, so I decided to start here!)
So, I promised adventure stories, and this one's a doozie!!!
Last February, we were living in Lupburg, Germany. Austin was the Community Director for Club Beyond at USAG Hohenfels. We loved working with the military for many reasons, but one of the big perks was four-day weekends! President's Day fell right after Valentine's Day last year, so we decided to hop in the Prius (yes, we owned a Prius while we lived in Germany, too) with our good friends Shane and Nikki, and spend our four-day in romantic Italia!
A few days before the trip, we were at Shane and Nikki's apartment talking about fun things to do for the four day. They hadn't been to Italy before, and there were some fun things that they wanted to do that we had some experience with (Pisa, Cinque Terre, etc.), so we hopped on booking.com and found a cute little hotel in Chiavari. We had never stayed in Chiavari before, but the hotel was a great deal, and Chiavari is right in between Cinque Terre and Genoa - where none of us had ever been, but we all thought it would be fun to explore.
While we lived in Germany, we took several short (and some not-so-short) road trips, and the Prius always did a great job. Austin is a maintenance nut. He always makes sure to do oil changes right on schedule, the tires are never out of tread, and he rotates them as often as is suggested by the manufacturers. We had separate snow tires for Bavarian winters. He always does a fantastic job of keeping track of and staying on top of those things. So road trips are never nerve-wracking, just tons of fun!
On Friday, we took off from home in the morning to begin the eight hour drive from the Hohenfels area to Chiavari. We took the eastern route, through Austria instead of Switzerland, which meant stopping just before the Austrian border to pay for a vignette. (A vignette is a sticker that you put on your windshield. You pay a flat fee for it depending on how many days you will be using the roads instead of having to pay tolls for every section of road.)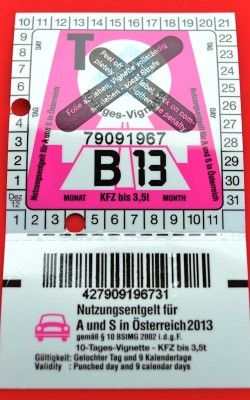 The trip south went very smoothly. There was a little bit of snow on the side of the road in the higher elevations, but the roads were all clear, and we didn't hit any ridiculous "staus" (German for traffic jams).
We made it to Chiavari early in the evening and checked into our charming little hotel. Albergo Monterosa is a charming little place on a narrow, oh-so-Italian street. They have a great little underground parking garage, and our rooms were upstairs next door to one another. Not super fancy, but comfortable and clean.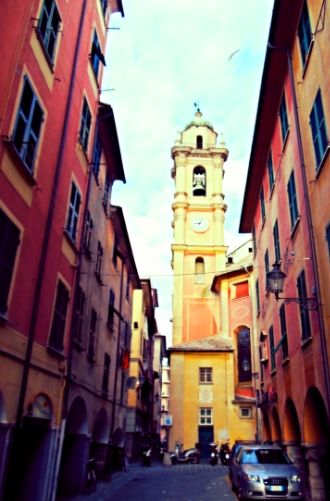 A stroll down our little Italian via
We unpacked a little bit and got settled, then set out to do a little bit of exploring in the quaint little town of Chiavari. Dinner at the quaint Trattoria E' Taggejne Di Mohamed Samir was a great end to the first day of our epic trip!
More to come! Hope you're having a great week!
His,
Click here to read part 2!
To see a list of ALL of our travel stories, in chronological order, click here!