PDA stands for President's Day Adventures, in this case. ;)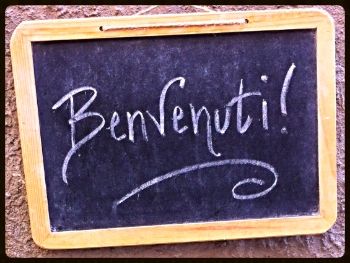 Welcome back! If you're just joining us, please use the links above to read part one and two.
Sunday morning, we got up and walked to Cafe Della Poste (quite possibly our favorite Chiavari find) for the sweet nectar that is Italian cappuccino and amazing brioche! (Crema e Nutella - To. Die. For.) The place was super cute on the inside, on the corner of one of the many piazzas, and the barista was a sweet woman who knew all of the locals' orders without having to ask! We sat at a corner table, and enjoyed the culture.
After breakfast, we headed for our next tourist destination: Genoa! This as a city none of us had ever visited, so we had no previous experience getting around, but I think we did OK!
Genoa was the birthplace of Christopher Columbus, so as Americans, seeing sites relevant to him was high on our list of things to do.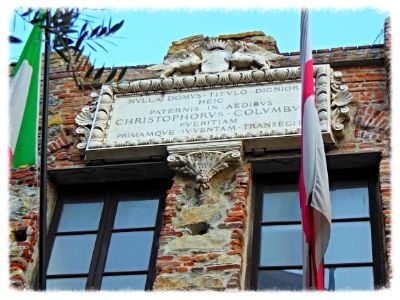 The birthplace of Christopher Columbus.
The Porta Soprana is just around the corner from CC's birthplace (rumor has it that Chris's daddy was the gatekeeper), so we got some pics there, too. I think you can climb up into the towers for a few euro, but we opted out and moved onto some other monuments.
Ancient gates of Genoa.
We saw the monument to Christopher Columbus on the Piazza Acquaverde. Right next to the main Genoa train station. (This detail is critical for a later part of the story.) Genoa Piazza Principe is one of the most beautiful train stations I've ever seen! And it was a convenient place to use the bathroom, which we needed at this point of our day!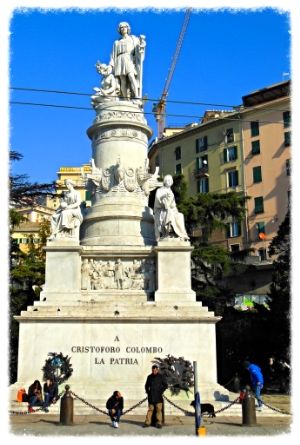 The Christopher Columbus Memorial.
Our last stop in Genoa was La Lanterna. Shane had done the research on this site and was excited to see it, so we made our way to the coast to view this iconic landmark.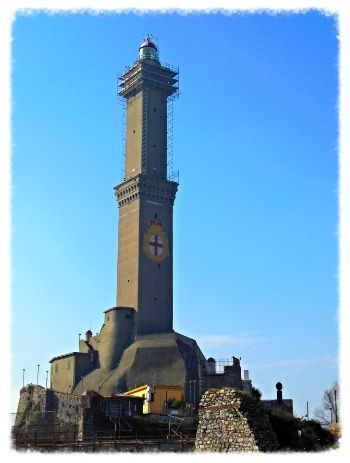 La Lanterna di Genoa
The tower itself was under construction, so we weren't able to go in, but the view of the city from this vantage point is pretty spectacular!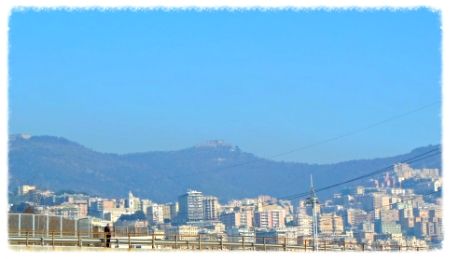 And we got to watch an Italian truck driver make lunch on his truck. So that was a bonus!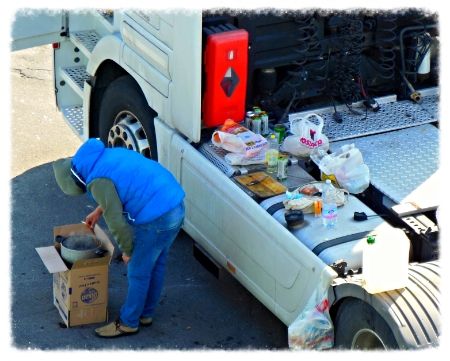 A fun look at everyday life!
From Genoa, we made our way to the luxury destination of Portofino!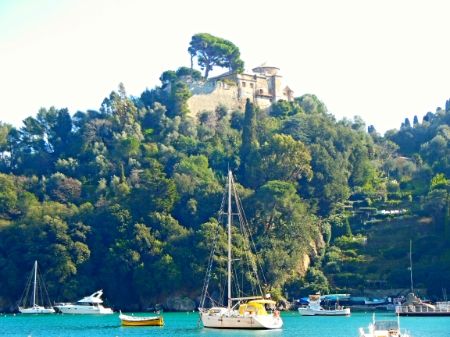 Portofino!
Portofino reminds me a lot of Cinque Terre, but I think because it's more well-known, and more easily accessible to the yachting crowd, it caters to a higher-budget set of tourists. It cost 8€ to park for an hour (compared to the free parking we used in Genoa), and the restaurants were all more expensive than we were willing to go for lunch.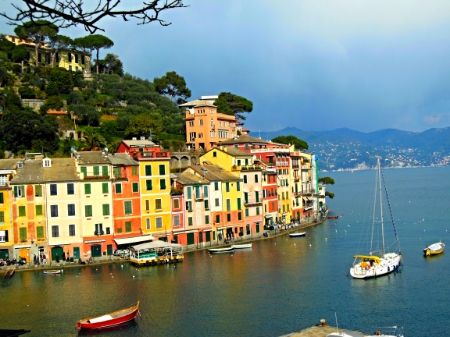 Beautiful Portofino!
But it really is gorgeous, and definitely worth the drive for the beautiful views and the drool-worthy cars and sail boats! In my mind Portofino is like a cross between Cinque Terre and Venice. The architecture is similar to Cinque Terre, and the restaurants and shops are a lot like Venice.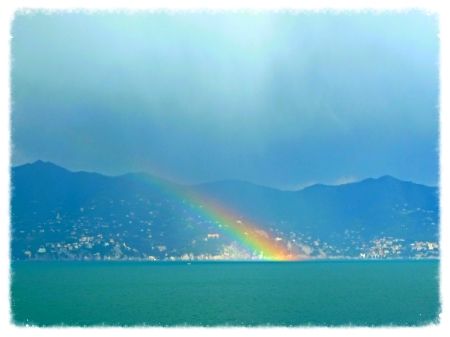 Gorgeous rainbow for our drive back!
We didn't stay in Portofino very long. Mostly because we were hungry for lunch, and it started to rain. We grabbed lunch at a foolproof traveler's option, the local grocery store! This is especially awesome in Italy where you can get fresh pesto and bread, amazing cheese and deli meats, enough to satisfy several hungry tourists, for just a few euro!
Since we got back to Chiavari pretty early in the afternoon, we borrowed the hotel bikes again and rode around for a few hours. We crossed the bridge into the neighboring town of Lavagna, then came back and spent some daylight time down by the water in Chiavari
Chiavari waterfront.
We "parked" our bikes on the beach and enjoyed the pleasant weather!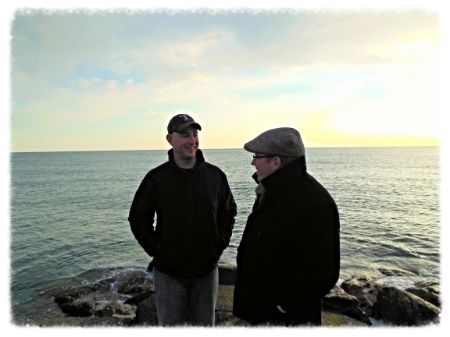 The boys :)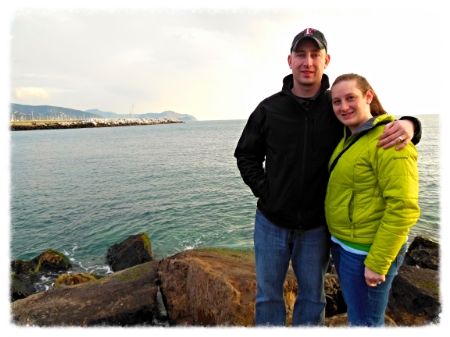 Shane 'n Nikki! Our awesome traveling buddies!
That evening we walked around to find a great place for our last dinner in Chiavari. We chatted with a sweet French couple on our walk and ended up at the same restaurant that they were heading to: Vecchio Borgo. The starter they brought us were kind of like hush puppies with shrimp or fish incorporated into the batter, which were fantastic. Austin, Nikki, and I thoroughly enjoyed the gnocchi al pesto for our main course, and Shane ate a ginormous platter of meat, which he said was delicious!
Thoroughly content with our weekend's adventures, we went back to the hotel, packed, and got a good night's sleep to prepare for the simple [ahem] trip home on Monday
Hope you're enjoying this little travel-log! Though it may seem like we had a pretty tame time, and we're now wrapping it up, the major curve-ball comes on Monday (both that Monday, February 18th, 2013, and this Monday, March 3rd, 2014), so be sure to check back in for the next installment!
Have a GREAT weekend!
His,
Soooooooo, I didn't get part four up as quickly as I thought I would. Click here to read Part 4!
To see a list of ALL of our travel stories, in chronological order, click here!