I have been a part of a church since before I was born. (Literally, I was an in-utero church member, no kidding!) I love Jesus, I love the Bible, and up until recently I could have honestly said that I love church.
My husband and I met at Bible college. We were missionaries overseas for more than four years. We moved back across the ocean (at no small expense to ourselves and our supporters) because we felt God had called us to minister as part of a local church in the capacity of the youth pastor and his wife. It was the culmination of many of our dreams.
We moved to Florida, bought a house, and proceeded to live the crap out of our big, happy, church-going life.
I used to say to people, "You know how when people are called to Ethiopia, they tell you that they just love Ethiopian people, and they have no explanation for that other than that God put that love in their hearts? I feel exactly that same way about our church family!" And it wasn't just something I said. I meant it, with every fiber of my being.
But I haven't regularly attended a church for the better part of six months. Just putting that down here makes me very sad.
On January 15, 2014, my husband, Austin and I basically got punched in the stomach and then kicked in the teeth by the very leadership that told us exactly six months earlier that they had our best interests at heart and would look out for us and love us like family. It's a very long story, but this evening Austin shared the highlights via Facebook post:
I think I've stayed quiet long enough. It's time for the congregation of First Baptist Church of Altamonte Springs to know the truth. I didn't choose to leave. I was called into an office with three men and was told that I would be resigning. I told them I wouldn't resign without praying about it and talking with my wife first. They told me they weren't asking, they were telling. You'll see that in the pre-typed letter of resignation they had waiting for me (see - "I will honor the decision of the leadership, Pastor Ron, and Personnel and will consider the health of the church over my personal feelings"). I was terminated due to "Philosophical Differences" and told that if I wanted to receive any severance pay I would keep my mouth shut and "not cause division." I was also informed that it was expected that we would not return to the church. So what does "Philosophical Differences" mean? Good question. It means that Ron Smith told me that it didn't matter if I worked for multiple weeks on end without a day off, I was not allowed to take any comp time to spend with Katy or even to make up for a sabbath. His attitude was "Jesus never took a day off." He also told me that, "Katy just sits at home clipping coupons all day so why not call her up and take her to a high school football game with you, and that could be your time together." I told him that was unreasonable and that those expectations are what lead to the high level of burn-out in ministry and a lot of the moral failures in pastors' lives, and I felt it was unbiblical. He disagreed. He even changed the 2014 policy manual to state that employees would not receive any comp time for work performed on "days off." What were my days off? Friday and Saturday....and I'm a youth pastor. When do retreats happen? When do sports games (badminton for example) happen? When do overnighters, movie nights, video game nights, go out for ice cream nights, talk about jesus times happen?...Oh yeah, Friday nights and Saturday, all school year long. So I had to choose between date night or ministry, Sabbath rest or discipleship. He then created a document that I was told I would have to sign stating that I agreed with his policies and would abide by them. I told him I couldn't do so in good conscience. So he and his clan fired me. The kicker, FBCAS is a church governed by the congregation. He can't legally change the policy manual without a church vote. He can't create documents and require me to sign them. What I found out after the fact is that the three men in the room had no right to demand my resignation. The truth is, if they wanted me gone, a deacon would have to present it to the church and you would all have to vote to fire me. I didn't know that. The deacons didn't even know I was fired until days after I was gone, despite the fact he met with them hours before the meeting I was fired in (I know because several of the deacons called me, very surprised, asking me what had happened). I sat in that office in tears and begged them to not tell the church I resigned because I had made a commitment to you students that I wouldn't "abandon you," as many of you put it. They promised they wouldn't say I "resigned". That Sunday, Cory Caslow stood up in front of the church and stated that they had "accepted my resignation." He also said that the personnel committee had met with me on multiple occasions and tried to council with me. To this day I've never even met with the personnel committee. The day I was fired, Katy wrote an email to the worship leader informing her that she would be leaving the worship team as I had been asked to resign. About 30 minutes later, Ron called my phone and told me that he would be reporting the email to the personnel committee and they would possibly take away my severance because "that action is divisive," and I essentially needed to keep my wife under control (I have a copy of the email if you want to see how "divisive" Katy is). So why am I telling you the truth now? Because I thought the leadership at FBCAS would ask the hard questions and would stand up for truth and accountability in leadership. Because I was pursued by a mega church to be their youth pastor and it reminded me that I didn't suck at being a pastor, but we were both too hurt to even consider it. Because I've had a new job for months, I make just as much money, I'm probably moving away from Florida, and you all deserve the truth. Better yet, my wife and I deserve to leave Florida with the people we loved so dearly knowing the truth. Many of you have believed the lies, not spoken to us, and not cared enough to ask what really happened. That hurts, Katy especially. She has spent weeks in the past crying and asking me how people who knew us could believe that we would just leave like that. Many of you know we were wronged but were too afraid to stand up for us. You could share this post so people know the truth...but you probably won't. Some of you will unfriend me, that's cool sheep, graze on.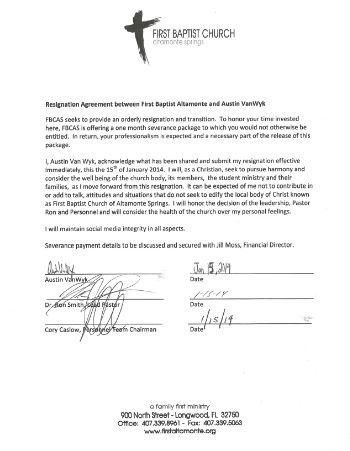 To see the full-sized letter, click here or on the image above.
It has been a very rough several months since all of this happened, but we have had time to process through it together and with our families. We still love the Lord and desire to serve Him in some capacity, but still feel very raw whenever we are in a church setting.
We don't share this story to cause strife or division, but because we truly believe that knowing the truth is the necessary first step to healthy change.
And also as a word of caution: Don't take everything your "pastor" says at face value. He is just a man. A good, godly pastor will welcome accountability and honest questions. If you ever come across a pastor who doesn't, run. Fast. Also, church structure is there for a reason. Any pastor who says he doesn't need an elder board should be a gigantic red flag. Even the apostles (the men who actually, physically walked with Jesus), didn't take the opportunity to demand their leadership rights without a group of leaders being involved (read just about any chapter in the book of Acts).
So that's our story. God is good, and He continues to provide for us (we have been paying two mortgages since November of last year, so that has added extreme financial stress to the situation). We know that none of this is a surprise to Him, and we also know that our problems are very small, not only in light of eternity, but when compared to those around us who are struggling with really important things!
Hope you have a great weekend! I'm hoping mine includes a beach!
His,