. . . go to the emergency room!!!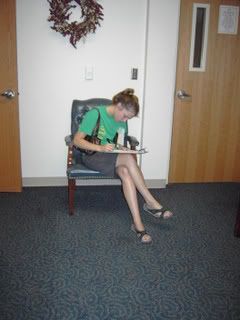 Yep, that's right. Life is certainly never boring, I'll tell you that much. You see, it all started at the
fair
. Austin and I rode up to Des Moines on a Harley owned by our friend Craig, and camped with Craig's family in their motor home. Well, when the time came that evening to move the bikes from general parking over to the campground, I had changed from my jeans to shorts, but didn't think much of it as we were just going to move the bike, not ride it for an extended period of time. So we hop on and cruise up to the campgrounds, where the parking is very, very tight. Thinking that I'll just get off real quick so that Austin can maneuver the bike more easily, I slide of the right side (big no-no) and land my exposed calf right on the VERY hot exhaust pipe! It didn't take me too long to move from that position, but as I was trying to get away from the pipe, I turned and scraped the back of my thigh on Craig's bike's license plate holder!
The burn hurt like the dickens, but didn't seem too bad, so we just walked down towards the fairgrounds and got some ointment from the police officers on duty, which cooled it and formed a kind of second skin which protected it nicely. This is what it looked like that Sunday morning:
It blistered and popped, and I thought that I was doing a fantastic job of keeping it clean. I put triple antibiotic ointment on it regularly and cleaned it out at least once a day with hydrogen peroxide, but by the end of the week, it was obviously infected and it hurt to even stand on my right leg for any period of time. By Friday night the redness of the infection had grown to an area of 8x11 centimeters at its widest and tallest points, and our friend Michael, with whom we were hanging out and playing games expressed his concern that it may be a Staph infection, and strongly suggested that we visit the emergency room immediately. This is what it looked like on Friday night: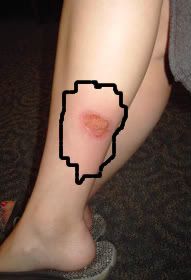 (The flash washed it out a little bit, but I've drawn a line around where the redness was.)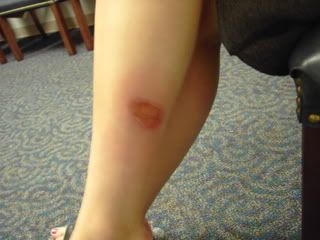 (This one shows it a little bit better, but my calf just looked so defined in the first one, lol!)
Tyler and Emma went with us to the emergency room, and we were processed very quickly. The doctor said that even though it was not a Staph infection, it was very good that we had come right away because it was very infected. She prescribed an antibiotic and wrote on me with a surgery pen, instructing us to return if the infection spread rapidly in any direction, or if it was no better by Sunday night.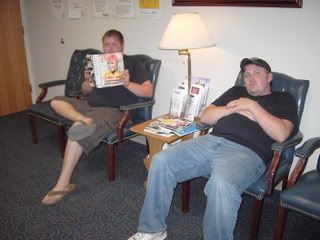 Tyler and Austin waiting for our names to be called (we were the only ones there)!
Thankfully, the antibiotics are doing their job and the infection has decreased significantly. It's still a little tender, but that's to be expected. We were a little shocked at the price tag on six pills: $134!!! Thank the Lord for good health, because I cannot imagine spending that kind of money on prescriptions on a too regular basis!
I've been feeling kind of funky all week, and I wasn't really sure why, so I did some research. The antibiotic, called Levaquin, is reported to have the following side effects: Headache, difficulty sleeping, agitation, anxiety, back and joint pain, changeable emotions, depression, difficulty concentrating, disorientation.(
source
) Which is a pretty good summary of the way I've been feeling. Thankfully this is the last day I will be taking it, so I'm really looking forward to the weekend.
Sorry I've been MIA this week. When I would get home from work, I would just crash - terrible headaches and the trouble sleeping at night has made me very emotional and weepy. Next week will be much better!
Thanks for reading, and for sticking with me through the slow weeks!