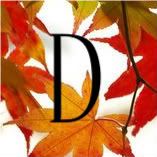 Attributes of God
God is our Defender

A father to the fatherless, a defender of widows,
is God in his holy dwelling.
Psalm 68:5

God is our Deliverer

O Sovereign LORD, my strong deliverer,
who shields my head in the day of battle-
Psalm 140:7

God is Divine

For since the creation of the world God's invisible qualities—his eternal power and divine nature—have been clearly seen, being understood from what has been made, so that men are without excuse.
Romans 1:20

His divine power has given us everything we need for life and godliness through our knowledge of him who called us by his own glory and goodness.
2 Peter 1:3

People
Dan - my wonderful dad
Danielle - my sweet friend/honorary family member
Darrell - Austin's grandpa
Doug F. - my cousin
Doug M. - our friend/travelling buddy
Diddy - our adorable pupper dog :)
Doctors - they don't get near enough good press these days

Things
Dance - what a powerful art form
Dogs - they bring such enjoyment to peoples' lives
Dads - biological, foster, adoptive, etc!

Will you
d
etail to us your list for the letter "D"?
I will
give thanks
to the LORD because of his righteousness
and will sing praise to the name of the LORD Most High.
Psalm 7:17