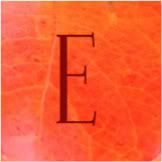 Attributes of God
God is Everlasting

The eternal God is your refuge,
and underneath are the everlasting arms.
He will drive out your enemy before you,
saying, 'Destroy him!'
Deuteronomy 33:27

People
Eric - my cousin!
Emma - my friend :)
Elisabeth - my other cousin!
Erica - my other friend :)

Things
Easter!!! - Praise the Lord!
Encouragement
Eating - it's fun!
Education - where would we be without it?
Eclairs - is an explanation really necessary?
Egg Nog! - love this time of year!
Electricity - thank God for technology
E-mail - what a convenient way to keep in touch!

What
e
arns a spot on your "E" list?
We
give thanks
to you, O God, we
give thanks
, for your Name is near; men tell of your wonderful deeds.
Psalm 75:1