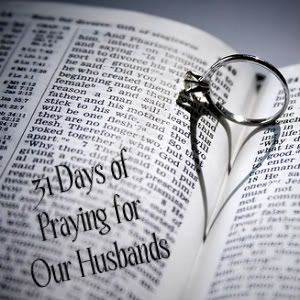 ~~~~~*~~~~~

Day 2
Pray that your husband's relationship with God and His Word will bear fruit in his life. Pray that he will be a man of wisdom and understanding, fearing the Lord.
Proverbs 3:7
Don't be impressed with your own wisdom.
Instead, fear the Lord and turn away from evil.
Proverbs 9:10
Fear of the Lord is the foundation of wisdom.
Knowledge of the Holy One results in good judgment.
Psalm 112:1
Praise the Lord!
How joyful are those who fear the Lord
and delight in obeying his commands.
Praying for my hubby, and for you all!
Day 1