NOTE: I am unable to upload photos while we are on the road, so this post will be edited to add pics as soon as we get home :)
Hello and happy Wednesday everybody! We're just heading home from our fabulous anniversary trip in Branson, Missouri!
As I write this I am currently driving down the highway connected to the Internet through Austin's amazing Motorola Q (I will never cease to be amazed by that, I'm very easy to amaze, lol!)
We had a great time in Branson. I had never been there before, and Austin hadn't been since he was about 12, so a ton had changed. Our stay was a wedding present from my grandparents (pictured below), which was a huge blessing!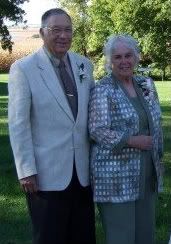 Thanks Mommer & Papa!
We left right after work on Friday evening, and got to Branson around 11:30 PM. I was driving at the end of the trip, and right as we crested the final hill into Branson, we ran out of gas!!! (Thank the Lord for a Hybrid that can run on the electric engine!) We coasted into town powered solely by the electric engine (this is definitely NOT recommended by the maufacturer) and ran out of electricity right as we pulled into the gas station! Crazy!!!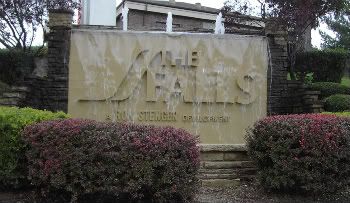 We checked into our little condo, and went straight to bed! Saturday we spent most of the day just laying around, watching TV, reading - I finished two whole books this week - and it was wonderful. Austin napped (which is very unusual for him, but it was so good, because he was exhausted)!!! And we went swimming, twice :)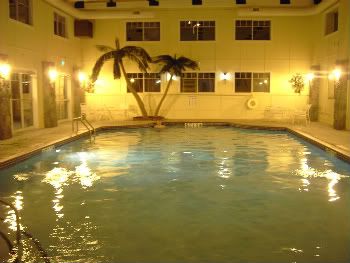 (Austin is the tiny dot under the palm trees :) )
Saturday evening we enjoyed a delicious dinner buffeet at Sadie's Sideboard & Smokehouse - absolutely wonderful, especially the dessert: raspberry cobbler (Austin had apple).
Sunday we slept in then went to lunch at Taco Bell, walked around a little mall, then historic downtown Branson where we saw a discount ticket place. We went in, and signed up to take a tour of a timeshare place and got the rest of our tickets for the rest of the week for super cheap.

Waiting for Legends to start.
Sunday night, we went to Legends and saw Garth Brooks, Liza Minelli, The Blues Brothers, Tina Turner, and Elvis in concert! Very fun! We even got our picture taken with "Garth."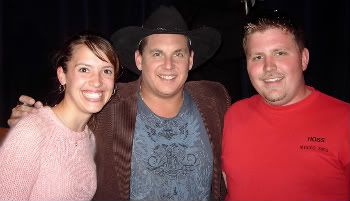 Monday was our anniversary, and we got up and went to our timeshare presentation. We ended up spending most of the day there talking to the sales person, but did not end up buying into the program. They sucked us into scheduling an "evaluation" for the following morning by offering us more free tickets, lol!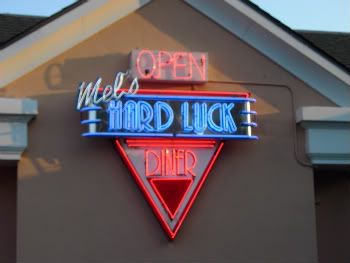 We enjoyed a delightful anniversary supper at Mel's Hard Luck Cafe (where the waiters and waitresses sing to you!) Our waitress, Julie, dedicated a song to us for our anniversary: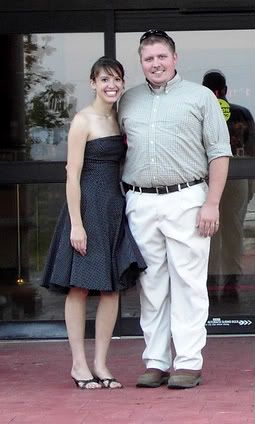 After supper we shopped a little bit, then headed to the New Shanghai Circus for the Acrobats of China show! Amazing!!!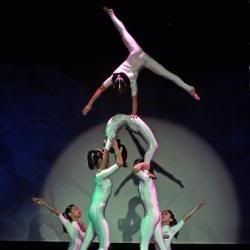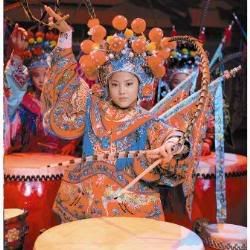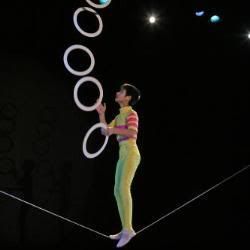 Tuesday morning we had our "evaluation" where they try to sell you a "membership" rather than an "ownership" - we were pretty close on this one because we do like to travel a lot, but my wise husband decided that he would feel better about it if we were able to do some more research and make an informed decision. (Have I mentioned that he rocks? :) )
From there we went to lunch at Fall Creek, home of the tossed rolls - they actually throw your bread at you, lol!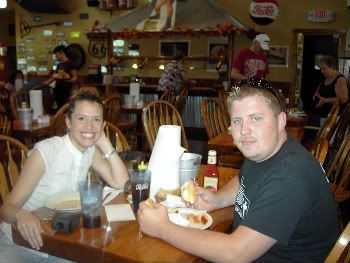 Our free tickets for the day took us to the Titanic exhibit and the Hollywood Wax Museum.
Titanic was very interesting and informational with a lot of interactive activities. They had a huge portion of the exhibit dedicated to movie memoribilia including several of Kate Winslet's gorgeous costumes.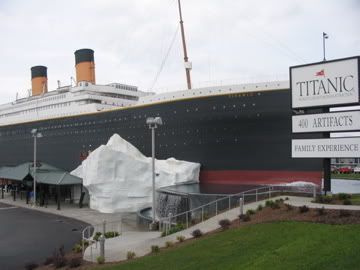 Hollywood Wax Museum:
Gone With the Wind (one of my favorite movies of all time)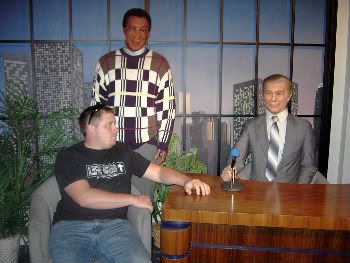 Austin on the Johnny Carson Show
John Wayne (that one's for you Aunt Ger!)
Two hotties, one a more alive than the other :)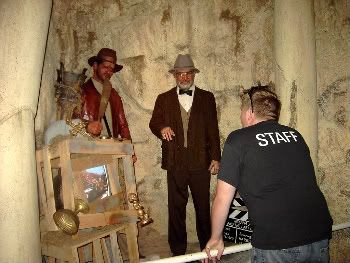 Indiana Jones exhibit

After that we had a little bit more time to kill, so we went for a free tour and wine tasting at the Stone Hill winery! Very fun!!!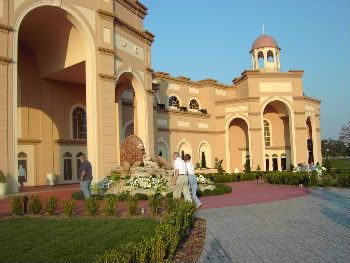 We went straight from our tour to the Sight & Sound Theatre for their production of
We ate supper from concessions while we waited for seating to start.
The musical was AMAZING!!!! The stage and set were spectacular,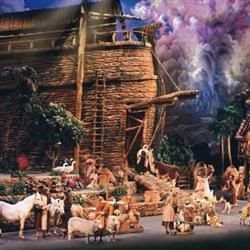 and while they did take some artistic license with the story line, they had a great message of God's faithfulness and salvation! Not a bad way to end our vacation.
All in all we had a fabulous time, and we enjoyed celebrating our first anniversary and looking forward to many, many more. Branson is a very popular destination with the retired generation, so everywhere we went we met couples who had been married for 30, 40, 50 years and more. Such a great encouragement for us, and a beautiful testimony to the committment of marriage in a world where that is not always commonplace.
Thank you all so much for your sweet anniversary wishes and prayers for our safe travel! And thanks for reading!
To see a list of ALL of our travel stories, in chronological order, click here!