I'm a little late getting to this, but I absolutely had to participate because I love fall, and I love pumpkins, and I have the most fabulous, easy recipe to go with today's pumpkin+chocolate phenomena!!! :)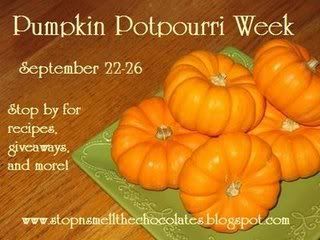 Lisa over at
Stop and Smell the Chocolates
has been hosting
Pumpkin Potpourri Week
since Monday, and since I've been M.I.A. most of this week, I almost totally missed it! (Thanks for the heads up
Sarah Mae
!)
My favorite Pumpkin/Chocolate recipe has been in our family for as long as I can remember, and my mom and dad still make them every time we're in town (even in the middle of the spring and summer)!
Pumpkin Chocolate Chip Cookies
(We always just call them pumpkin cookies.)
1 cup canned pumpkin
1 cup white sugar
1/2 cup vegetable oil
1 egg
2 cups all-purpose flour
2 teaspoons baking powder
2 teaspoons ground cinnamon
1/2 teaspoon salt
1 teaspoon baking soda
1 teaspoon milk
1 tablespoon vanilla extract
2 cups semisweet chocolate chips
Combine pumpkin, sugar, vegetable oil, and egg. In a separate bowl, stir together flour, baking powder, ground cinnamon, and salt. Dissolve the baking soda with the milk and stir in. Add flour mixture to pumpkin mixture and mix well. Add vanilla and chocolate chips. Drop by spoonful on greased cookie sheet and bake at 350 degrees F for approximately 10 minutes or until lightly brown and firm.
I don't have any pics mostly because they're usually not around long enough to take a picture before they are devoured.
Thanks for reading! Be sure to head on over to Lisa's to check out all of the other fantabulouse pumpkin & chocolate combos! I've got my eye on the tiramisu!