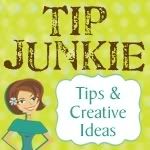 Tip Junkie's Christmas Tree Contest
The custom of erecting a Christmas tree can be traced to 16th century Germany, though neither an inventor nor a single town can be identified as the sole origin for the tradition; in the Cathedral of Strasbourg in 1539, the church record mentions the erection of a Christmas tree. In that period, the guilds started erecting Christmas trees in front of their guildhalls: Ingeborg Weber-Kellermann (Marburg professor of European ethnology) found a Bremen guild chronicle of 1570 which reports how a small fir was decorated with apples, nuts, dates, pretzels and paper flowers, and erected in the guild-house, for the benefit of the guild members' children, who collected the dainties on Christmas day.
Our Christmas Tree theme is snowflakes and snowmen, and my color scheme is white and silver and gold. :)
In 1846, the popular Royals, Queen Victoria and her German Prince, Albert, were illustrated in the Illustrated London News. They were standing with their children around a Christmas Tree. Unlike the previous Royal family, Victoria was very popular with her subjects, and what was done at Court immediately became fashionable - not only in Britain, but with fashion-conscious East Coast American Society. The English Christmas Tree had arrived!
Sparkling white and gold snowflake ornaments (thank you Bryce & Thelma).
White and silver "Let it Snow" ribbon garland.
Glittery gold ribbon garland.
~ * ~
~ * ~
Several paper snowflakes that I made last year complete the tree.
Our tree skirt is actually a lap blanket that we received from my grandparents as a wedding gift - I love the gold feathers! :) It's a perfect fit with the color scheme!
Be sure to check out all the beautiful trees at
Tip Junkie's Christmas Tree Contest
!