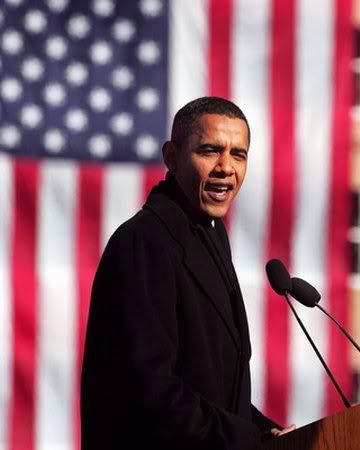 It probably comes as no surprise that I was less than pleased with the results of Tuesday's presidential election. I was honestly hugely disappointed; however, in my blog reading this morning, I happened upon
this post
by Beth Moore, and found myself very convicted by what she had written.
I admit, I had a pretty bad attitude going to bed on Tuesday night, and Austin really humbled me by asking "So, you're saying God did not see this coming?"
Ouch.
Today, I have decided three things:
1) Complaining, griping, grousing, and pouting about the outcome of Tuesday's election will not change anything. It will only frustrate me and everyone around me.
2) Refusing to respect the man who was elected by the majority of American citizens is not only unfair (as I would expect others to respect McCain had he been elcted) it is downright sinful.
3) My God is still on the only true throne, and places people in position of authority according to His will. And, I hate to spoil the surprise, but I've read the end, and we win! :)
So, I will continue to pray for our nation, and our new president. It cannot possibly be an easy job, and he has a lot of difficult decisions to make in the weeks and months ahead.
For more thoughts and reactions to President-elect Barack Obama, click
here
, or
here
, or
here
, or
here
!
Hope everyone has a fantastic Thursday!