I found this quiz a looooooong time ago on Jenny's blog
The Sound You Hear Is . . . LIVING
, and I'd been such a blog slacker as of late, so I never got around to posting it! I thought it was appropriate for today, as today is the final day to enter our fabulous
MHR/Austin & Katy's Anniversary Giveaway
!
How Well Do You Know Your Husband?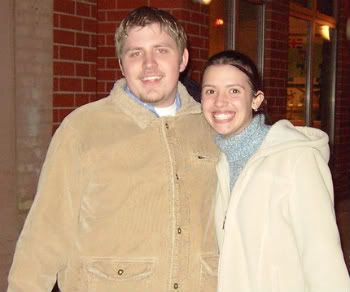 (blast from the past dating pic, lol!)
1. Sitting in front of the TV, what's on the screen? Mythbusters, Dirty Jobs, or Man v. Wild
2. You're out to eat; what kind of dressing does he get on his salad? No salad - Bacon Cheeseburger, every time! (If he got a salad, it would be ranch dressing)
3. What's one food he doesn't like? Seafood
4. You go out to a bar. What does he order? Long Island Iced Tea
5. Where did he go to high school? Homeschooled w/ Abeka curriculum then Public School for his senior year
6. What size shoe does he wear? 13 or 14 depending on the shoe
7. If he was to collect anything, what would it be? Money, lol (inside joke, sorry)!
8. What is his favorite type of sandwich? Cold cut trio with mayo and lots of pickles
9. What would this person eat everyday if he could? A bowl of cereal. He pretty much does that already :)
10. What is his favorite cereal? Cinnamon Toast Crunch
11. What would he never wear? He's pretty brave where fashion is concerned, but I don't think he'd be too keen on wearing women's clothing, lol :)
12. What is his favorite sports team? default to Iowa State Cyclones (he's not a big sports guy)
13. Who will he vote for? John McCain
14. Who is his best friend? Me! Of course! His parents, sister, Craig, Tyler, and Michael probably come pretty close :)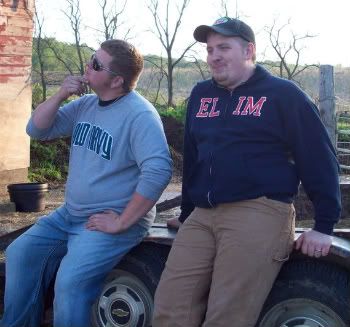 15. What is something you do that he wishes you wouldn't do? Get involved in girly drama - I try so hard, but it just sucks me in!!! (That's a cop-out, I should try harder, it's not something I'm proud of!)
16. How many states has he lived in? 2ish
17.What is his heritage? DUTCH!!!
18. You bake him a cake for his birthday, what kind of cake? Chocolate cake w/ chocolate frosting, or strawberry cake w/ strawberry frosting
19. Did he play sports in high school? Soccer, I don't think he was in swim team in high school, but he was when he was younger.
20. What could he spend hours doing? Riding his motorcycle.
21. Does he belong to any men's organizations? Nope.
So, how'd I do honey?
If anybody wants to participate, let me know I'd love to see it! It may also earn you a few extra entries in the
giveaway
as well! *smiling slyly* :)
Have a wonderful Thursday!